This week I'm showing you how to easily print and assemble your own $5 DIY Nurse Hat from Hilltop Custom Designs. These hats are an original HCD product and were designed by me to add even more character to your doctor or Doc themed parties! **Each hat is child sized.
The Tutorial:
Step 1: Print both PDF sheets back-to-back (on the same page) to create a double-sided design. See your printers manual or an online instruction for doing this on your printer!!
Back side design is purple stripes (not shown). I recommend using white card stock.
Step 2: Cut out along outer dotted lines. Make notches where indicated on the PDF sheets.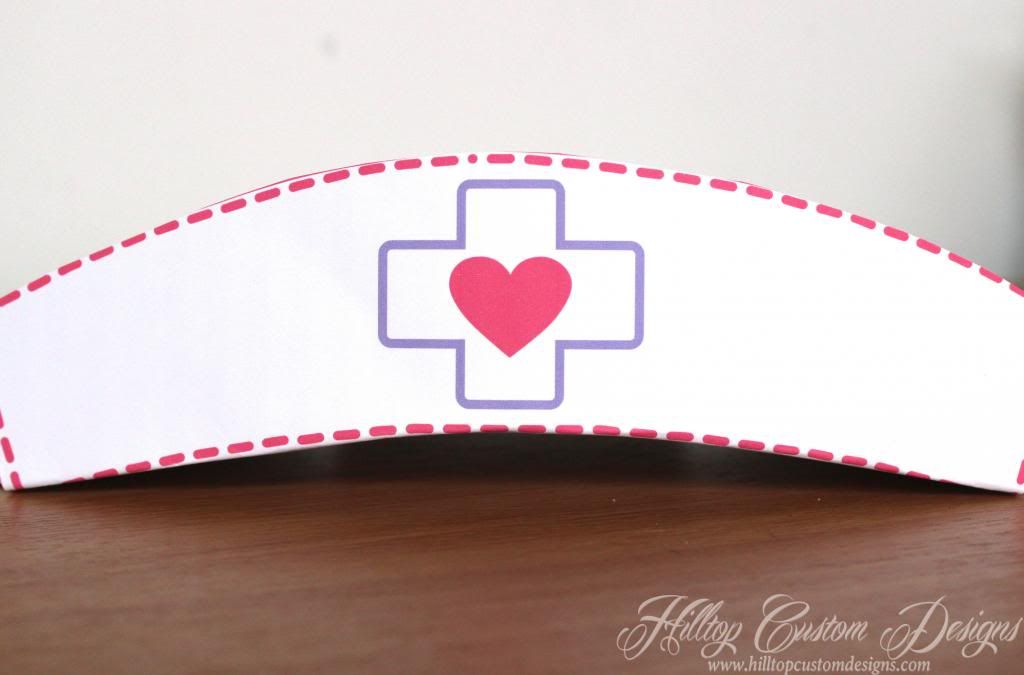 Step 3: Begin folding your hat along the small white dotted lines, shown on the backside of the design (purple stripes OR red dots side). Try to do curved folds as best as you can. (Im not so great at it, lol, sorry!)
Step 4: Once hat is properly folded along all lines, assemble and "hook" together the side pieces where notches have been cut out. See small "front" and "back" icons on the printable sheets for reference.
You're done!
Feel free to Add a hole punch to each side and attach some string or elastic to make this hat stay on better.
I promise this is a super easy and cheap DIY craft. All together it took me approx. 5 mins to print and assemble, so not only is it easy but when it comes to printing these for parties, it also saves time!
*Please note your printer must be calibrated properly and have the proper margins set for 8.5x11" paper in order to get the front and back design PDF sheets to align correctly. I didn't have any issues, so hopefully you won't either! But if you do - please check your calibration and margins! :)
Thanks for reading, feel free to leave any comments or questions below! - Amista
Save
Save